Our Champions
Oliver Porter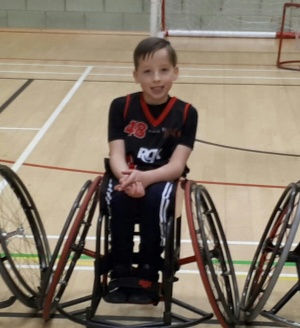 Hi, my name is Ollie and I'm 10 years old. I'm obsessed with all types of sports - playing and watching. I play wheelchair basketball for the Tees Valley Titans and also love Wheelchair racing, training with the local harriers team and Leeds City Wheelchair racing club. I use a wheelchair for all my sports and everyday. I got my first wheelchair when I was 2, as I have Spina Bifida. My legs don't work at all but it doesn't stop me doing everything I want to do & I'm always looking to develop new skills in my chair. I first came to a Go Kids Go workshop when I was 3 and really enjoyed it. It made me much more confident in my chair and I started to learn new skills. Since that first time, I've been to lots more workshops, every time learning lots of other skills to make me independent. I also enjoy meeting up with friends and demonstrating some of the skills I've learned. Roy & Emily always make the workshops good fun, challenging me to learn something new. I always look forward to the next workshop. The skills I have learned give me so much independence in my everyday life and also really help in my sport.
Kizzy Blue Wade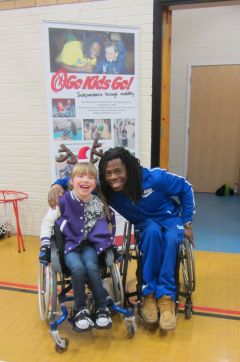 Hi my name is Kizzy Blue Wade and I am 9years old, I am a full time wheelchair user due to having quadriplegic cerebral palsy. When I was younger I started out using a powered wheelchair but soon wanted to try a self propelled wheelchair, mainly because I really wanted to try wheelchair basketball. My parents arranged for me to try out a manual chair and after seeing I could manage to propel it independently (though very slowly) they ordered me one. This was the start of my relationship with go kids go and also with wheelchair sports. On my first wheelchair skills course I was without doubt the slowest person there but that didn't faze me or Roy Wild who was taking the course. Instead he took the time to show me how to use my chair properly and even correcting some bad habits I had developed, this may sound like a lot of hard work but believe me it wasn't, everything was done through activities and games. I especially loved bulldog and basketball. We also learnt important parts of life like road safety, and what to do if you fall out of your wheelchair, which we soon realised has happened to most wheelchair users at some point. I also tried out the evacuation chair which although a little scary to start with was actually fine and even a little fun. The other great part of the day was that my parents also spent the day in wheelchairs and so for the first time they understood what I was going through and the problems I was facing day to day, they was very surprised at how physical using a wheelchair is and that it's not as easy as it looks. I also met some great people on the first course who have become very good friends since. Since the first training day I have completed several more and each time I learn new tips and skills and have slowly but surely got stronger and faster, and this has then helped me to start training with sports clubs. I now train at wheelchair basketball, wheelchair racing, powerchair football and swimming and can honestly say these courses have helped immensely. They have also helped me to gain independence and confidence in my wheelchair skills and disability, I now feel proud of who I am. I could not recommend these training days more, I look forward to each and every one and are so proud to be helping to spread the word of the great work this charity does.
Chloe Smith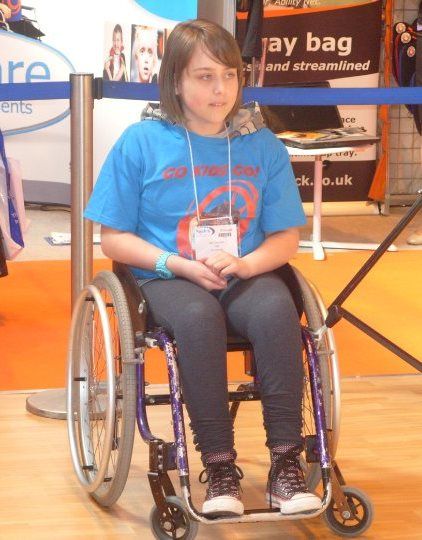 My name is Chloe Smith and I'm 16. I have a type of Cerebral Palsy called Quadriplegia in all four of my limbs. I can walk but not for very long, so I usually use an electric or manual wheelchair to get around. Because my arms are affected using a manual wheelchair is difficult, but Go Kids Go! have helped me to become more confident with my manual wheelchair skills. I been to lots of workshops in the West Midlands, and they were all invaluable experiences! They've not only helped me improve my practical skills, like how to climb a kerb or get out of a fallen chair - but I can even do a wheelie! They've taught me so many skills and I'm so thankful. I even met my hero, Ade Adepitan at Naidex thanks to them! They've even come in to my school to teach my school-mates what it's like to be in a wheelchair. It was amazing!

I'd recommend Go Kids Go! workshops to anyone. If you're a wheelchair user, they teach you so many things and you meet so many great new people. Family members benefit too, because they get to see what being in a wheelchair is like! Without Go Kids Go!, I honestly wouldn't be as confident in my wheelchair as I am now. I'm now a 10m air rifle shooter and use lots of the skills I've learnt at workshops every day! Everyone who uses a wheelchair or has a wheelchair user in their family needs to take part in one, because you learn so much! They're so much fun, too! I love playing British Bulldog and Wheelchair Basketball at the workshops. I'm honoured to be a Champion because I want to get Go Kids Go! as much publicity and fundraising as possible. I can't wait to start!